Hackney
Ridley Road Market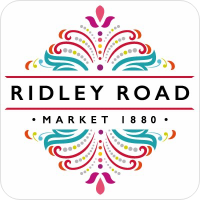 Ridley Road has been home to this market in the heart of Dalston since the end of 1880s having started with about 20 stalls it now playing an important part in Hackney's history and heritage with over 150 stalls offering a diverse range of quality goods at very competitive prices.
Opposite Dalston Kingsland Train Station and beside Kingsland Shopping Centre, Ridley Road Market is one of the most vibrant in East London, offering a unique combination of international flavours from around the world. With the fusion of Afro-Caribbean, Asian and European goods, there is something there for everyone.
Visitors to Ridley Road Market, centred in Dalston town centre, are greeted with a warm and pleasant atmosphere, the energetic sound of reggae music and the natural blend of cultures. Apart from serving fruit and vegetables to generations of families, the market also offers a wide range of household goods.
Key Trader Information
| | |
| --- | --- |
| Commodities | Clothing, Footwear, Hot or Cold prepared/cooked Food and Drink, Fruit and Vegetables, Cosmetics, Electrical, Jewellery, Souvenirs, Flowers, Household |
| Commodities Wanted | Souvenirs, Jewellery, Electrical, Cosmetics, Fruit and Vegetables, Hot or cold prepared/cooked Food and Drink, Footwear, Clothing, Flowers, Household |
| Pitch Availability | Some Availability |
| Days Open | Monday, Tuesday, Wednesday, Thursday, Friday, Saturday, Sunday |
Borough News From Hackney
Broadway market
14th August 2023